Combing
By Margaret Chandia
I remember when I was growing up combing was a nightmare for me and would always end with a lot of hair on the floor and on the comb and a really sore head! Many ladies in their adult life still struggle with combing their natural hair in the same way. Today I am hear to tell you that combing does not have to be sore, result in hair breakage all over the floor and your cloths etc. and your hair does not have to be combed with a conventional comb at all. The first rule of correct hair combing is start with the right tool. Use a afro comb, a wide tooth comb, seamless if you can find one, or you can use your fingers (yes I said fingers, the cheapest comb you will ever buy)! Please stay away from brushes and combs with tiny teeth those are enemy number one when it comes to breakage. If you cannot find a seamless comb at least buy a comb with no jagged/uneven edges that your hair might snag on or try finger combing more! Checkout the best and the worst combing tools!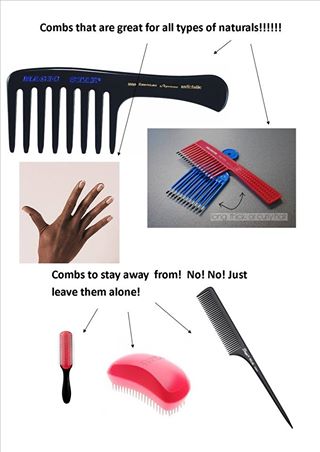 Guest Post by Margaret Chandia
Margaret is not only an avid curlsister and natuaralist but the founder of Me Time Events. She is a dynamic young entrepreneur with a background in social research and project management. Margaret is on a personal mission to build ethical, socially relevant and profitable businesses. Me Time Events marries her mission and two passions, social entrepreneurship and development.